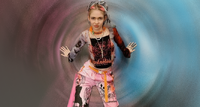 Claire Elise Boucher
 (born March 17th, 1988), better known by her stage persona and character
Grimes
, is a Canadian singer, songwriter, musician, producer, artist and music video director
[1]
. Born and raised in Vancouver, she first became involved with the underground music scene and began recording her own experimental music while attending McGill University in Montréal.
Early life
Boucher was born and raised in Vancouver, British Columbia[2]. She is of Québécois, Ukrainian and Russian descent[3]. She graduated from Lord Byng Secondary School[4] and studied ballet for 11 years[5]. At age 18, she moved to Montréal, Quebec to attend Montréal's McGill University to study neuroscience[6]. During her studies, she began to record and perform under the name Grimes, taking the name from grime music after discovering the existence of the genre on MySpace[7]. However, as Grimes became a more serious endeavour for her, she began to miss a large number of classes, and began only attending to take exams, resulting in the university taking punitive actions against her and ultimately expelling her[8]. In Montréal she began putting on concerts with her friends at Lab Synthèse, a performance space they started, which was located in an abandoned textile factory that Arbutus Records evolved out of[9]. Two of her songs were released (under her real name, Claire Boucher) on Arbutus Records' Spring 2009 Sampler[10].
Career
2009–13: Geidi Primes, Halfaxa, Visions
Grimes' debut album, Geidi Primes, was released on cassette in 2010 through Arbutus Records. Later in 2010, Grimes released her second album, Halfaxa, also through Arbutus. In 2011, Grimes released a split 12" with d'Eon called Darkbloom. Her recording name was initially claimed to be a reference to Ken Grimes, an outsider artist best known for drawings of aliens[11]. However, in December 2014 she revealed on Twitter that the origin of her name was from listing her music on MySpace in the grime genre multiple times, even though she didn't know what Grime music was at the time. In May 2011 she opened for Lykke Li on her North American Tour,[12] and the following August her debut album was re-released through No Pain in Pop Records, in CD and vinyl format for the first time[13]. Also in 2011, she made an appearance on Majical Cloudz's single Dream World[14] and collaborated with DJ/producer Blood Diamonds[15].
She signed with record label 4AD in January 2012. Her third full-length solo studio album Visions was released on January 31 in Canada through Arbutus, while being released elsewhere through 4AD the two following months[16]. Visions received critical acclaim from music critics and appeared on numerous music publications' year-end lists. NME included it on their 500 Greatest Albums of All Time list in 2013. The album's promotional single, Oblivion, also received additional acclaim. Pitchfork Media ranked Oblivion number-one on their 200 Best Tracks of the Decade So Far in 2014,[17] while NME went as far as to include it on their 500 Greatest Songs of All Time list. Grimes recorded the album in extended isolation[18] at home in Montreal, and described her writing process as being "equally enjoyable and tortuous"[19]. She felt that its difficulty contributed to its success[20]. Grimes described her composition conditions as blacking out her windows, taking amphetamines, and staying awake for three weeks without eating[21]. She added that she could not make music during the day. Grimes later clarified that she "hated" hard drugs and their impact on her friends, and did not want to be associated with their use[22].
In April 2013, Grimes posted a written statement addressing her experience as a female musician in an industry rife with sexism and expressed disappointment that her feminist stance was often interpreted as anti-male[23]. On December 17, 2013, Grimes posted to her Tumblr that she had signed to Jay-Z's management company Roc Nation, whilst still signed to 4AD[24].
2014–present: Go, scrapped album, Art Angels
On June 26, 2014, Grimes premiered her new track Go, featuring Blood Diamonds and allegedly written for Barbadian recording artist Rihanna, on Zane Lowe's Radio 1 show and uploaded it to her official SoundCloud page and website for free download, showcasing a new sound for herself while she was still working on her fourth solo studio album[25]. On August 21, Grimes posted a teaser for the music video, directed by her and her brother Mac Boucher[26]. Despite receiving generally positive reviews from music critics, it had a polarizing reaction from fans due to its departure from her previous sound. Rolling Stone ranked it number fourteen on their Best Songs of 2014 list, calling it "a club hallucination somewhere between Rihanna and Skrillex, sung with a ravenous desire that's all her own"[27].
She eventually scrapped the entire album she had been recording and despite initial reports claiming that the cancellation was due to negative reactions to Go, Grimes later clarified that the album was "too depressing" and "didn't want to tour for it", adding that "people's reactions do not factor in my [her] choices" and that Go was never intended to be on the cancelled album. She concluded her comments by saying that the album might be released someday for free[28]. On March 8, 2015, she released a self-directed video for a demo from the abandoned album, REALiTi, which received critical acclaim from music critics, being named Best New Music by Jenn Pelly from Pitchfork, calling it the "best new Grimes song since Visions"[29].
On March 15, 2015, Grimes performed lead vocals on a new song by indie pop band Bleachers, Entropy, for the HBO TV show Girls[30]. On May 24, 2015, Grimes announced via a series of Tweets to her fans that her upcoming album will be "surprise" released sometime in October. She also said it "probably will be accompanied by two simultaneous single releases with an unspecified date" and that the "album will be a departure from previous singles Go and REALiTi", and had been recorded using "real instruments"[31]. In Summer 2015, Grimes toured with Lana Del Rey for several of her Endless Summer tour dates. Grimes brought HANA on this tour to perform with her.
Posting the cover of her upcoming album, Art Angels via Instagram on 20 October 2015, Grimes commented, "Art Angels: album cover. Music & video next week. Artwork by Grimes"[32]. On 26 October 2015, she released the lead single of the album, Flesh without Blood, accompanied with a double music video that also featured the song Life in the Vivid Dream[33]. Shortly after, SCREAM was released as the second single from the album. After its November release, the album received stellar reviews, garnering an 88 (out of 100) rating on Metacritic.[34]
On January 12, 2016, Grimes announced she would be opening for Florence + The Machine on their American tour, called How Beautiful tour which would take place during Spring/Summer of the same year.
The music video for the second promotional single off Art Angels, Kill V. Maim, was released on January 19. A music video for California, the third promotional single, followed on May 9, 2016.
Musical style
Grimes' music is varied, including an eclectic mix of styles which she herself describes as "ADD music", it shifts frequently and dramatically– "I go through phases a lot"[35]. Her work has been likened to various artists, including Björk, Siouxsie Sioux and Enya, and she was described by Tastemakers Magazine as an "alien love-child of Aphex Twin and ABBA"[36]. The Guardian summarised her musical style as "sounding a little like everything you've ever heard, the whole sounds like nothing you've ever heard"[37]. Her music has experimented with elements of art pop, synthpop, witch house, baroque pop, dream pop, ambient, electro-R&B and dark wave.
Grimes cites the following musicians as influences: Marilyn Manson, Christina Aguilera, Skinny Puppy, Nine Inch Nails, Cocteau Twins, How to Dress Well, Swans, Dizzee Rascal, Dandi Wind, Beyoncé, Mariah Carey, Enya, TLC, Aphex Twin, Outkast, Jedi Mind Tricks, Dungeon Family, Drake and Lana Del Rey, as well as K-pop, medieval music and industrial artists. She also considers Los Angeles singer and rapper Brooke Candy "a very contemporary muse".
Art
Grimes created the album art for her last few albums. Her art is influenced by Japanese anime, manga, and comic artists such as Charles Burns and Daniel Clowes. "In fact, Boucher only started developing her fine art techniques because she wanted to mimic the drawing styles of anime and manga like the Sailor Moon series that became popular in the United States in the 90s"[38].
Personal life
Boucher has stated that she is vegetarian unless she deems it inconvenient for others to cater to her nutritional needs[39].
In 2014, Boucher wrote a blog post expressing an aversion to hard drugs and regretting having lost friends to drugs and alcohol. [40]
She has a step-brother who raps under the name Jay Worthy[41]; they collaborated on the songs Christmas Song, released on the Rough Trade bonus disc of her album, Visions, and Christmas Song II (grinch), a song uploaded to YouTube which never saw an official release.
Discography
Albums
Singles
Promotional singles
Tours
Headlining
Opening act
Lana Del Rey – The Endless Summer Tour (2015)
Florence + The Machine – How Beautiful Tour (2016).
Official Accounts
Awards
Year
Awards
Category
Work
Outcome
2012
Polaris Music Prize
Best Canada Album of 2012
Visions
Nominated
2013
Juno Awards
Breakthrough Artist of the Year
Herself
Nominated
Electronic Album of the Year
Visions
Won
MuchMusic Video Awards[42]
Dance Video of the Year
Genesis
Nominated
2015
Video of the Year
Go
Nominated
Best Post-Production
Nominated
Best Director
Nominated
References
Community content is available under
CC-BY-SA
unless otherwise noted.